Free Shipping on book orders over $25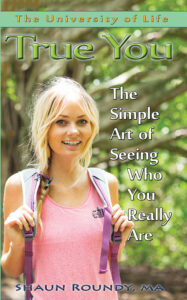 The University of Life
True You
The Simple Art of Seeing Who You Really Are
If you feel uncomfortable with eye contact, have you ever wondered why? Because it feels intrusive and rude, that's why. It makes you feel exposed and triggers deep insecurities. But wait – why should simple eye contact makes you feel so vulnerable? Are the eyes truly the window to the soul? Can the secret to your true nature be discovered through those tiny stained-glass portals?
The definitive answer is: Yes! On an intuitive level, you already know that even perfect strangers can see straight through you. Otherwise, why would you mind when they glance at those beautifully colored circles in middle of your face?
The important question is: now that you know, what will you do about it? True You teaches you step-by-step how to "read" minds and hearts, which may be the simplest yet most life-changing skill you could develop. It's instructive, nurturing, encouraging and simply fascinating. You'll quickly discover that you are much, much better than you could have guessed.
UofLIFE.com price: $9.99 (Click "Add to Cart" above)
Or order from Amazon.com:
Kindle: $9.99 $3.99 j.mp/trueyoukindle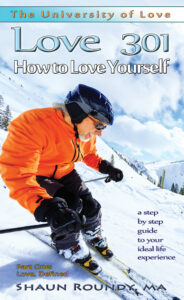 The University of Love
Love 301: How to Love Yourself
A  step-by-step guide to your ideal life experience
After five years of researching the nature of love and designing effective ways to teach it, The University of Love is pleased (and relieved) to present Love 301: How to Love Yourself, now ready for you to order.
Change your world as you discover what it means to love yourself and how to implement love's magic into your daily living. Each chapter includes examples, explanations, and several types of application exercises to personalize your learning experience. Read Chapters 3 and 4 here for a small taste of what's coming your way.
UofLIFE.com price: $13.99 $12.99 (Click "Add to Cart" above)
Or order from Amazon.com:
Paperback: $13.99 j.mp/self-love-book
Kindle: $13.99 $3.99 j.mp/howtoloveyou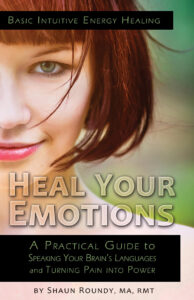 Basic Intuitive Energy Healing
Heal Your Emotions
A Practical Approach to Speaking your Brain's Languages and Turning Pain into Power.
This easy-to-read 300-page book walks you through hundreds of surprisingly effective ways to quickly heal anxieties, fears, emotional wounds, limited thinking, and other impediments to living a happy & actualized life. It also provides dozens of insights to construct a more productive sense of identity and world view. Order Heal Your Emotions for a limited time for $3 off!

[expand title="» Show/Hide Amazon Book Reviews" tag="h5″]


and may I just say I LOVE IT! You learn such great techniques and skills …
By photoatvmom on May 16, 2015
In the middle of reading this book, and may I just say I LOVE IT! You learn such great techniques and skills to help yourself with anything you are going through. My personal favorite is an example he gives with a button to release fears, its fantastic! I love all the knowledge I have received especially through understanding your conscious and subconscious. Would recommend to anyone and everyone! This is a book every individual needs and will change their life! Will for sure finish and re-read again 😀

Amazingly Helpful!
By Rislyn on May 28, 2015
This is my 3rd time though Heal Your Emotions and I'm still benefiting every time I pick it up. His techniques are clear, easy to implement, and extremely effective! Whether you want to heal or are working on becoming your best/true self, this book has great things in it to help you!
[/expand]
UofLIFE.com price: $19.99 $16.99
Or order from Amazon.com: Heal Your Mind
Paperback: $19.99
Kindle: $9.99 $6.99
75 Search and Rescue Stories: an insider's view of survival, death, and volunteer heroes who tip the balance when things fall apart. Reviewers say things like "Shaun Roundy has a fast-paced, light-hearted writing style that never bogs down" and "If you don't have a copy of 75 Search and Rescue Stories in the mail to your address right now, I highly recommend you get one. This is the best rescue book by far that I've ever read."
[expand title="» Show/Hide Amazon Book Reviews" tag="h5″]

Inspiring and fascinating
By Lily.cc
This book is well worth twice the price charged, especially given that part of the proceeds are donated to SAR. Divided into quick, engrossing chapters that each tell the story of a SAR operation, it's immensely readable. Some stories will make you laugh, some will leave you in awe. Shaun Roundy has a fast-paced, light-hearted writing style that never bogs down. Everyone in Utah County should read this before heading to the mountains or the lake; maybe then we'd have fewer people getting ledged out on a cliff in a t-shirt with no gear every month.
I have never required the assistance of SAR, but my brother did, and some these stories seriously brought tears of gratitude to my eyes. Anyone considering volunteering for SAR or something similar (working at a mountain resort, national park, or similar) should definitely read this first to get a feel for what they might be facing and to understand the mindset required.

A Must Read!!!!!!!!!!
By Marla Hendrickson
As a person new to the hiking scene here in Utah I never stopped to think just how serious a situation I could find myself in if I didn't make wise choices considering my inexperience and ability. After reading Shaun Roundy's book centered on rescues here locally in Utah and more specifically Utah County I have a much deeper appreciation for my surroundings. Every chapter is a new experience. Some with happy outcomes and some that are not. I gained a greater appreciation for the skills, dedication and compassion of the men and women of Utah County's Search and Rescue Team who put their lives on the line and life on hold to serve others, all at their own expense. This is not a paid position nor is their equipment or travel provided for. You will not be able to put the book down. I read it while flying from one destination to another and was disappointed when it was time to land. What impressed me the most was Shaun's ability to tell a story and include all the details and facts and yet do so very respectfully of the families involved. Some stories will even make you smile and some will make you cry. I have since purchased additionally copies to give to my son a fireman and a good friend who was personally touched by one of the tragedies in the book. You will not regret your purchase.
[/expand]
UofLIFE.com price: $14.79 $12.99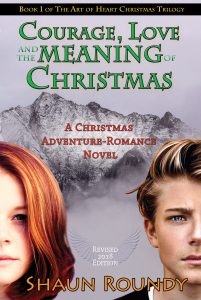 Courage, Love and the Meaning of Christmas is the major revision of the popular Gone but not Forgotten. UPDATED FOR 2018. More information on ChristmasNovels.com
[expand title="» Show/Hide Amazon Book Reviews" tag="h5″]

I laughed, I cried, it made me think…buy this book
By M. Gordon "careful reader"
I laughed.
I cried.
The story stuck with me and made me think. I, like Spencer, thought about the meaning of life. As I read this thoughts and the characters wriggled their way into my heart. After I finished, I found these thoughts had blossomed and I will be better for having read this.

A fantastic book!
By J. Partridge
I really loved this book. I read it in two nights — practically couldn't put it down. Roundy is a pro in this genre. He really captures the heart of interpersonal interactions and relationships, and mixes in the right amount of suspense and adventure. And he takes a much needed and profound look at the real meaning and purpose of life. An excellent read! (And I'm excited that this story about Spencer is a trilogy!)

A Good Heart Reader
By Inez
The Meaning of life is experimented thru out life.. Varies on one soul to the next.. But I love the variety and detail this book gives to such a meaning.. I really enjoyed this book. It made me feel alive and free spirited after.. A wonderful feeling for days to come. Thanks for the soul finder.

Awesome Book
By Samuel Pucketton
This is an awesome book well written and pulls you in as a part of the story. It is real life as he questions what is the real meaning of life. He gets his answers living life with family friends and of course meeting a young lady that shares his dreams and challenging his thoughts dreams and bringing out the best in him. A great read that's hard to put down.
[/expand]
UofLIFE.com price: $7.99 $6.49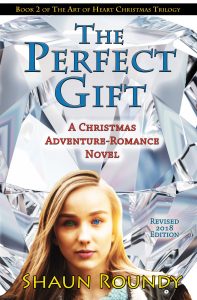 The Perfect Gift
is the long-awaited sequel to
Courage, Love and the meaning of Christmas
or
Gone but not Forgotten
. It takes up one year after the first book and things are not as you expected! UPDATED FOR 2018. More information on
ChristmasNovels.com
[expand title="» Show/Hide Amazon Book Reviews" tag="h5″]

The Perfect Gift was the Perfect Gift for me!
By photoatvmomon
I love reading a book where you feel better after you read it and learn some lessons along the way.
This heart warming book did that for me. I could identify with the characters and could not put this book down.
What I love about Shaun Roundy's books it seeing the world through his eyes. He has amazing insight and leaves you wanting more. So do yourself a favor and purchase this and take some time out for you to enjoy this masterpiece!

truly was a perfect gift
By Inez
Knew I would love this book. Just as I did the first one. Was sad when I finished and now have to wait for the third book to be released.. this series is one of the best I have read.. and ive read tons. What can I say I'm a bookworm, and love a heartwarming romance story.

Courage, Love and the Meaning of Christmas
By P. Poynor "granmama"
I read this book and its sequel, The Perfect Gift, and found both to be thought provoking as well as entertaining. Spencer and Ski seem to be an unlikely pair to engage in friendship, but it works. Spencer has to fight through his insecurities to discover who he really is. That leads him to visit his grandmother earlier than planned and where he meets Annetta. He discovers that his friendship with Annetta brings out the best in him.
Through the course of the two books, Spencer and Ski both discover their best selves. But there are unresolved issues with Annetta. I'm eager to read the last book in the trilogy.

The Perfect Gift by Shaun Roundy
By vellaon
I really enjoyed reading The Perfect Gift. Shaun is a talented author who does a great job! I highly recommend this book to readers. I loved a poem called, The Darkest Hour that is part of the story & also I'm hooked for the upcoming sequel. Lots of different things going on throughout the book. There is romance as well as evolving friendships. You won't be sorry for this purchase!

Love Love Love!!!
By Barb
I am not one to post reviews……but I love this series of books so much that I am leaving a review my first time. If you don't get these books, you are missing out on a wonderfully well written book with lots of love and lots of emotions. I can't express enough how much I love Shaun's books!!!

LOVED IT
By lizzy
I got this book from my daughter and couldn't wait to read it. I loved the first one and the second was just as good. I can't wait for the next one. If the author wasn't such a good professor I would suggest that he quit his day job. Great book for all ages.

Happiness
By Sanna
Warm-fuzzy, funny, charming,exciting, this is the book that's going to get passed around the office and your friends, everyone will want to read it.
A+![/expand]
UofLIFE.com price: $8.99 $7.99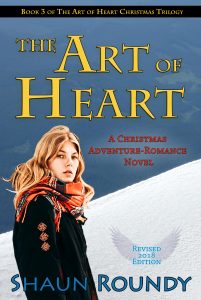 New for 2012,
The Art of Heart
is the long-awaited sequel to
Courage, Love and the meaning of Christmas
and
The Perfect Gift
. This 268-page high-altitude conclusion to the trilogy is packed with more adventure, insights, romance, plot twists, just like the first two books. In the end, all loose ends get tied up, but it keeps you guessing right up to the last page! UPDATED FOR 2018. More information on
ChristmasNovels.com
[expand title="» Show/Hide Amazon Book Reviews" tag="h5″]


Awesome Book!
By Char Mc
I just finished the last book of Shaun Roundy's Courage, Love and the Meaning of Christmas trilogy, which I LOVED! Never has there been a book I've read that prompted me to ponder such things so deeply, as we see the main character do throughout the series. This is such an insightful trilogy and I enjoyed the journey. You fall in love with the characters and by the last book, it'll leave you not wanting it to end. Was glad to read the publisher's note about the early release prior to additional editing passes. I was so anxious to read The Art of Heart, that it didn't bug me when I spotted incorrect grammar.

Awesome book
By Kimon
When I read the first two books in this series, I couldn't wait to dive into this third and final book. However, it was a long time coming…..but so worth the wait. Shaun has a way of writing that is simple yet compelling. The characters are real and the story line is believable. It was fun to go to the mountain and explore nature and the beauty of friendship. Well worth the read.
[/expand]
Paperback: $14.99
UofLIFE.com price: $14.99 $12.99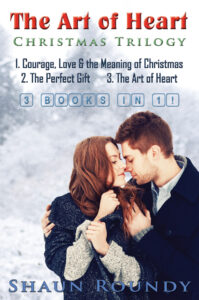 The Art of Heart Christmas Trilogy contains ALL THREE Christmas books in one 570-page volume.
[expand title="» Show/Hide Amazon Book Reviews" tag="h5″]

Love this series
By photoatvmom
Love this series! I literally have re-read them at least 5 times. It feels like a new book every time you read it, but the author writes in a way that is captivating and you feel as if you are there! The characters are all so relatable and interesting, this author never stops amazing me. I am such a picky reader, but I absolutely love these books. Is a must read! 😀 Hands down some of the best reading I've laid my hands own. 5 stars easy! 😀

A great series of books
By vickii parmenter
I am a romantic and I couldn't put this book down. I wanted it to end with the guy and girl together. When I turned the last page, I found out that there was a second book. A continuing story. I was hooked!

Love these books!
By mtngal
I have several books by Shaun Roundy & thoroughly enjoy reading them! I want to rush to the end to see what happens, but I also want to savor the details!

A Fall from Heaven (an early release which includes the first dozen+ chapters to the final book, The Art of Heart)
By chwjr
I love this series and could not wait for this book to come out, Spencer is in love with Annetta but things didn't work out for them before, can they now make it work? I love the characters in it , I could not put it down till finished. I love Shaun's books and he has not disappointed me on this one and cannot wait till he has finished this one which he has promised to be out in Christmas. I am thinking that the ending may surprise you when he finishes it, I have a feeling about it that it may take a new twist.
You will not be disappointed. get this book!
[/expand]
Order from Amazon at The Art of Heart Christmas Book Trilogy
Paperback: $18.99 (a $12.98 savings over purchasing each book separately)
Kindle: $8.99 (a $2.98 savings)
UofLIFE.com price: $16.99
.
An American in China: Starting Over. A Travel Guide to the Adventurous Life recounts a spontanous trip to the Orient full of adventure, romance, and the unexpected costs and blessings of starting over again and again and again.
[expand title="» Show/Hide Amazon Book Reviews" tag="h5″]


Great story, great style!
By Antone Roundy "Alpha Gecko"
The story is moving, entertaining, interesting, exciting… And I love the format: a series of vignettes from the author's experiences in Taiwan and China and reads like a journal of how it all felt, only better than a journal. Every other page includes a photograph (or 2 or 3 or 4…) that really help to communicate the flavor of the people and places you encounter in the book.

Gripping
By Trevor
Shaun descriptively reveals his adventure of dropping everything and flying to the other side of the world. For adventure seekers everywhere, this book gives an inside look at experiences that all of us long for. Actually going out and searching for whatever it is that will fill your cup. Whether it be soul searching, an adventure, freedom from the fast pace life or a longing to break free of the obliviousness to the beauty, mystery and wonderment of the whole world. You'll find, page by page, Shaun does all of this. Paving the way for future wanderlust people wondering if going around the world is really as doable as you've wished it to be. Break free of monotony and routine. Shauns style of writing has a natural flow. The book reads like a journal and each randomly sized anecdote is chuck full of details you can tell he is desperate not to forget. It feels like your reading the conversation going on inside his head while he discovers his new world. Coupled with vivid real time context, you feel like you are actually there. Personally, this books opens new doors and sparks up a brighter flame of wanderlust. This book is a must-read for anyone that has said to themselves, "there's got to be more out there."
[/expand]
UofLIFE.com discount price: $13.99 $9.99 for one, $8.99 each when you order two, 7.99 each for three.
UofLIFE.com price: $13.99 7.99:
This.

a vampire cure for forever
has earned high praise from several reviewers for its engaging plot, depth of characterization, useful insights, and more. The protagonist, Kayla Porter, made the Best Female Characters of 2010 list, winning Honorable Mention from YA Vampire Books. For Utah Valley residents, you'll enjoy all the action spread throughout the valley, up the canyon, and on the lake.
More information on
ThisVampire.com
[expand title="» Show/Hide Amazon Book Reviews" tag="h5″]

This. A vampire cure for forever
By Cieratownsmc
Overall great book!It was such a page-turner that I stayed up and read it all in one day (and night). Quick but good. Although it's a YA novel, you almost don't miss that it doesn't get "steamy". The characters were easy to love and the story was easy to fallow.

Read this book!!!!!!!!!!!!
By Maizie
This book is a good book however at some points
it gets a little confusing.While I was reading this book I couldnt put it down and finished it in two to three days.This. is a great book for vampire lovers like myself and people who like to read about bloody fights.I would recamend this book to people.I wish there was another book about Ethan and Kayla after the ending.Thats all im going to say beacuse I wont ruin it for when you decide this book is worth reading!!!!!

Have you read This?
By Katherine Blazzard
To escape.
To be invincible.
To find lasting love.
To discover friends false and true.
To dream deeply, live intensely, long for a better world.
To conquer your fears and learn to see what others are really made of.
To learn to be comfortable in your own skin and find power hidden deep within.That is what This is about.Is This a story, a tale, a legend? Yes. This is all of those things.
But This is more. Because This is not just the human story. This encompasses Others.
In This we discover what it means to have a perspective shift.To stop fearing the unknown.
To embrace the different.
To defend your friends with a fierce loyalty.
To follow your heart and your bliss.
To become who you want to become.
To see the world how you would like to see it.
To love and be loved in return.In This, the author gently guides the reader to a place where all of This become a reality. Call it fantasy, call it magic, call it make-believe.But after you read This – you too will want to believe as the characters in the book believed, that your world is what you make it.This is what you have been looking for.P.S. If you like Batman, Dracula, Twilight, Chupacabras, or The Outback Steakhouse, you will LOVE another theme in This.

An exciting and unexpected adventure!
By db
This book targets such a wide audience, sure to please everyone. Like a little romance and flash backs to high school crushes? You'll love it! More into action and adventure and unexpected twists and suspense? Well, you'll love it too!
With two small boys at home, I don't remember when the last time was that I finished a book. This one I couldn't put down! I finished it in 2 days! With great character development and wonderful details and descriptions it's easy to follow, and too easy to get engulfed by. Yes, it's a vampire book, but just like Kayla says in the beginning, it's not what you're thinking. But it's not just a story either. Full of wisdom and insights, this book isn't just for teens or an empty read.
I really enjoyed this book and would recommend it to everyone, old and young, guys and girls. So if you can't decide, just buy it! You won't be disappointed! 🙂 (and pick one up for a friend too! It would make a great gift!)

Another can't-put-it-down novel by Roundy
By J. Partridge
This. is another suspenseful, insightful, and thoroughly enjoyable story by Shaun Roundy. Reading it produced the kind of feel-good and inspiring experience that I've come to expect reading his work.I have to say that Chapter 11, "BFF," was probably the best essay I've ever read about being oneself and not giving in to peer pressure or "petty insecurities," as Roundy puts it. Being confident with the person you are, and not letting others opinions affect the way you act, the things you say, the kind of person you know you should be — Roundy nails it on the head and causes you to look closely at your own behaviors, which I really loved.
The vampires in the story are very interesting and quite different than you'd expect, and the story ends with an excellent twist and cliffhanger.A fun and inspiring read, I recommend the book to everyone.

Vampires afoot
By Kirsten
"This" was a surprisingly fun read. Not being a teen anymore didn't discount the fact that it kept me interested in the story. The development of the characters and especially of Mitch was superb. The story places the heroine in high school and in love. When vampires appear in their lives, danger and excitement and profound experiences ensue. That's really as much as I feel comfortable telling about the story as I don't want to ruin the enjoyment of reading it for yourself! An inexpensive book that really was fun to read. I'm excited for the sequel!

The characters make you want to become like them or acquire one of their traits
By photoatvmom
Such a unique story! The characters make you want to become like them or acquire one of their traits! The story line is different than the usual vampire books, its much better! So much detail and great writing in this book, read many times! You fall in love with their relationship and the friendships and take the journey with them. My younger sister got hooked on this book and she never reads, now that says something! A+[/expand]
UofLIFE.com price: $7.77 $6.99
Over more than a dozen years of innovating teaching, Shaun Roundy compiled
The Art & Craft of Writing

: the ultimate step-by-step guidebook to the writing process and effective composition
. This concise, clear, effective and sometimes humorous text leads you step by step though the three categories of requirements to create powerful writing: concepts, process, and specific writing skills.
[expand title="» Show/Hide Amazon Book Reviews" tag="h5″]


The Art & Craft of Writing: The Ultimate Step-by-Step Guidebook to the Writing Process and Effective Composition
By Donald N. Hester
I am a Professor of Accounting and have written a number of research papers, published in professional journals like the "Journal of Accountancy" and I have also published a financial article in the "Ensign." I consider myself a good writer and people who have read my work confirm my opinion. But I looked around trying to find a good book to pick up some pointers that would make me better. I accidently found Mr. Shawn Roundy's book and I have been delighted by the outcome. Basically, I don't have much time to dither around. That's why I love Roundy's book. I have been able to pick and choose from the book and the results have dramatically improved my writing. I especially have found chapters 18-32 to be very helpful to me.
[/expand]
"No one ever writes stories about
good
step mothers," a friend once complained to Shaun. "I'll write you one," he responded, and
The Stolen Heart
is the result. This simple tale is designed to help children process the remarriage of their parents.
Shaun wrote
Bloomers
for some neighborhood kids who he wanted to persuade to shake off expectations to stay small and let loose all the greatness they had inside. Two friends have used the story in lessons and presentations to good effect – one reported that everyone in her class cried, and the parent of one student reported, weeks later, that the story changed her son's life.
Shaun wrote
The Joy of Misery
about an audacious solo trip straight up 7,000′ Mount Timpanogos one spring. Nestled into the adventure, he explains the roots of beauty, balance, and several other insights. The original version earned high praise when published in SummitPost, and this version has been significantly revised and includes 45 expedition photos.
Comments
comments