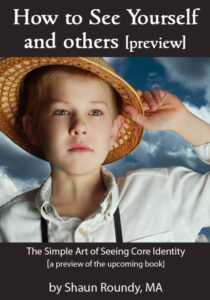 We're currently working on a book that teaches you the simple art of seeing core identity. It's more than reading minds, it's reading souls to discover what someone is really made of. It's incredibly simple yet remains largely unknown in Western culture (not so in other parts of the world).
For now, order a preview of the book on Amazon Kindle for just 99 cents.
The preview contains some very nice writing to make you aware of the life-altering importance of our need to be seen on this deep, core level (for motivation, empowerment, clarity, healing…) and gives instructions for how to have a mind-blowing experience in less than five minutes.
You're going to love it!
We'd love to hear about your amazing experiences. Please leave a comment on this page to share your new discoveries.
Comments
comments