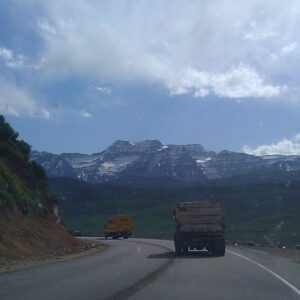 I just got home from a long trip, flying one way across the country then driving back (to help my sister move from Florida to Idaho <- there's me driving the moving truck into Provo Canyon), and one of the best things about the trip was talking to strangers.
There were casual chats with flight attendants, asking directions to the beach (when my ride from the airport was a few hours late), sunbathers who agreed to watch my bag while I wandered through the surf, a kite surfer who offered to let me use his other kite (unfortunately, my ride was arriving in a few minutes so I couldn't accept), other travelers in truck stops and restaurants, one of whom borrowed my phone since she forgot hers at her daughter's who she had been visiting in St Louis, and so on. They usually seemed surprised and pleased to enjoy a brief conversation with someone they had never met and will never see again.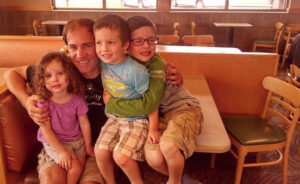 I know, I know, your mom taught you not to talk to strangers; but you were a child then. Now you're an adult and talking to strangers is usually safe (so this advice may not apply to my niece and nephews, though everyone they talked to along the way smiled especially big). It also brings our world a bit closer together – and that's a good thing: studies keep showing that connection is one of the greatest sources of happiness and it's steadily fading from our social-media-infected world.
Here's how to do it:
Find yourself someplace where people aren't super busy and already engaged in things.
Say something. Anything, really. See if they reply, and then you have a brand new conversation going on right before your eyes.
Asking questions works great since that makes it easier for them to know how to respond.
If they seem uninterested or annoyed, move along; you've done your part. If they seem to enjoy the exchange, carry it on a bit longer. If you really hit it off, maybe you can become facebook friends or get married and live happily ever after (but don't get pushy about either of these if you just met).
The idea of talking to strangers got reinforced when I went for a run up the canyon today. I should have been watching my feet as the trail turned briefly rocky, but I looked up at a pretty girl and tripped, peeling back the skin on one hand and giving me a few other scrapes as well.
Nice timing, right?? But if not for my small misfortune, we'd never have talked. Afterward, I made a goal to talk to a stranger every day, and I'm passing along the same invitation to you.
By the way, the "Today" in the title of this post does not refer to any particular day. That makes every day "National Talk to a Stranger Day," so improve your life satisfaction and make the world a better place by talking to a stranger today!
Comments
comments