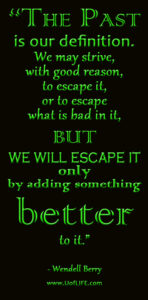 The past sets your expectations of the future, and most people believe it, argue for it, and willingly fight to defend their unquestioned belief that things will always be as they always were.
It doesn't need to be this way! If you don't like your past – or if you'd like a better future – then it's all up to you.
As soon as you do something better than you've done before, then THAT ACT becomes your past! It becomes the new possible! It suddenly all makes sense and you become the proud new owner of a sparkling new sense of reality.
Don't wait! Start now! You recreate your past with every passing second!

Comments
comments