Today's podcast asks whether you're living an inspiring life, then explains how to do that by choosing the better of the two motivations (hint: I'm not referring to love and fear). You also get a story of walking with young pioneers in disappointingly pleasant weather and you'll learn a little bit about self actualization.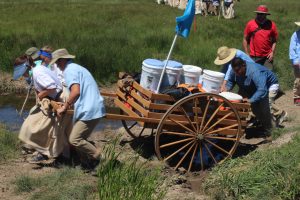 P.S. one of the "family" groups spent much of their walking time solving riddles, so I made up a brand new one. See how quickly you can figure this out:
I carry life on my back between the stars,
I'll fight you both ways, my arms against yours.
No matter how far you walk, or how fast you run,
We'll never reach our next destination.
Click here for hints
Hint #1: what do you need to keep you alive? Hint #2: stars have rays shooting out from them. Hint #3: what's the farthest you can ever see (not counting the sky)?
Click here for the answer
A handcart. It carries your survival gear. The wheels and spokes are like stars. Both ways = uphill and down. Our next destination is the horizon, and we'll never reach it because it keeps moving farther away….
Comments
comments