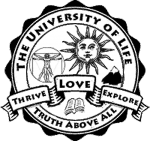 "The University of Life" is a way of saying that earth is a giant classroom with lessons to learn. This is not an actual, physical school, though we do offer courses from time to time.
Our goal is to shorten life's learning curve – because life gets a lot easier and better once you learn who you are and how life works, but that doesn't happen automatically, and it takes time!
Until you learn better, you're more prone to costly mistakes. You experience failure, suffer defeats and disappointments, and possibly endure years of unnecessary frustration and anxiety. Hopefully, you learn better along the way, but not always. "Experience is what you get," as they say, "when you don't have experience."
Don't pretend like you already know all the answers. Never quit learning. Visit UofLIFE.com often to find answers to questions you hadn't even thought to ask yet.
UofLIFE.com is built and operated by author, teacher, speaker, adventurer, thinker, search and rescue volunteer, world traveler, intuitive energy healer Shaun Roundy. Thanks for visiting! Thanks for sharing your favorite pages with your friends!
Comments
comments